As Construction Technologies Evolve, Health and Safety Remains a Top Priority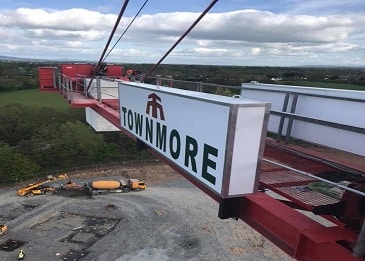 As Construction Technologies Evolve, Health and Safety Remains a Top Priority
As recently revealed in The Sunday Independent, Townmore has secured a robust pipeline of work for 2020 (worth an estimated €130 million) putting the company on track to generate more than 90 new jobs across Ireland. This expansion and growth marks a huge turning point for the company and it comes at a time of important change across the built environment. Significantly, the team here are helping to drive these industry changes, for example, the use of building information modelling tools, or BIM, became mandatory for all Townmore projects in 2019.
While exploring a whole range of MMC tool, techniques and processes for ongoing and future projects, health and safety remains one of the most important considerations before construction projects get underway. Safety across traditional construction projects has improved massively over recent decades and new methods of construction, including an increasingly offsite process, further drives this improvement.
Townmore is currently rolling out a 'Safety First' campaign, upskilling our teams and providing training to the supply chain, where required. Industry data clearly demonstrates that a significant proportion of construction accidents occur when key workers have not received the requisite training. For this reason, our focus has been on practical and targeted training. Furthermore, we understand that people cannot be fully effective in their role without this important training. The risks on any construction site are too hazardous and consequences too serious to be ignored, therefore, training is only a part of our overall H&S strategy. It is imperative to put the right tools into the hands of the right people. In reality, it is unlikely to be one thing that causes an accident, rather, it is likely to be a series of poorly-thought out processes or behaviours. This is why the right systems are critical in order to encourage and support the culture change that is needed for long-term safety success. A safe site is vital for building team trust and for strengthening relationships within projects across all stakeholders.
At Townmore, in addition to adherence to mandatory health and safety guidelines, our team works hard to ensure H&S excellence across direct staff and across the entire supply chain. We fully understand that our people are our greatest asset. Encouraging our people to excel professionally ensures the company continues to thrive. The Townmore health and safety team consistently support and engage with contractors, monitor performance, identify key points of training required and we reward high performance.
Our H&S team is at the forefront of health and safety forward planning for projects, making HSA codes of practice and site documentation easily digestible and manageable for workers on and offsite. Speaking at a recent event Townmore's Managing Director, James Godley said, "Our team is the largest and most important asset we have, the successful growth of our company over the past decade has been driven by our people. Retention is something we take very seriously. Our recent investment in health and safety training initiatives – and the technology to support this – illustrates our commitment to improving both the company and our people".