Townmore Continues to Drive Industry Safety Standards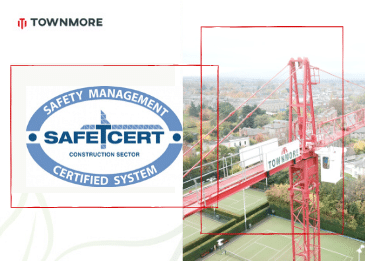 Townmore Continues to Drive Industry Safety Standards
~ David Allen, HSQE Manager, Townmore.ie
The Townmore team were delighted to retain an 'A' rated Safe-T-Cert recertification on May 8th 2020, on foot of a site audit. This places Townmore to the fore of the industry, demonstrating excellence and continuous improvement with its integrated management systems. Since joining the Construction Industry Federation's (CIF) Safe-T-Cert scheme in 2011, Townmore has established a safety management system and culture within the organisation that has delivered a consistent grade 'A' rating for the past 6 years. 
Safe-T-Cert is a certification scheme designed for certifying the safety management systems of contractors working within Ireland's construction industry. The objective of the scheme is to improve Health & Safety management by providing objective standards and certifying those contractors whose safety management systems have been assessed and can demonstrate that they:
1. Are in-line with the International Labour Organisation's guidelines for safety management systems
2. Meet the basic requirements for training and competence
3. Implement an occupational health and safety management system, which meets the requirements of the organisation – incorporating continual improvement
4. Comply with all relevant national legislation
5. Demonstrate commitment to safety at all levels within the organisation
Townmore's Carrs Lane residential development on Malahide Road, Dublin 17 was the auditors project of choice. Great credit is due to the project management team led by Project Manager Stephen Fox who, under the guidance of Health & Safety Advisor Kevin Foley, demonstrated an excellent standard of Health & Safety across a demanding set of criteria. 
Recognition is also due to all team members who have contributed to the safety management system throughout the year. The auditor remarked that the system reflected the proactive approach to Health & Safety demonstrated by the entire team, from Townmore's senior management, right through to the site operatives. 
Well done to all for another successful Safe-T-Cert!