Townmore Project Update: Cobh Primary Care Centre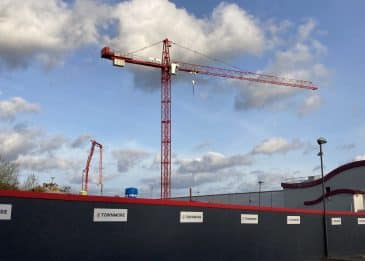 Townmore Project Update: Cobh Primary Care Centre 
Since January 8th, the team at Townmore have been kept busy working on essential construction projects, including the delivery of new social housing, healthcare facilities, education and cleanrooms. However, for the sake of our team, our clients, our supply chain and indeed the end users, we welcome the phased reopening of all construction sites over the coming month.
Last Summer the Townmore team broke ground on the construction of a new Primary Care Centre in Cobh, County Cork. The timing of this project was quite auspicious as it coincided with the return to non-essential construction sites after the first industry lockdown and the appointment of the new Housing Minister, Darragh O'Brien TD – as this article reminded us: http://test.townmore.ie/news/building-change-a-new-primary-care-centre-for-cobh/). 
This important community build for Cobh will be the fourth Primary Care Centre project nationwide to be delivered by Townmore. This substantial project comprises the construction of a three-storey, 30,000 sq. ft. Primary Care Centre. The scope of works also includes the partial demolition of an existing building in order to accommodate new GP Suites, treatment rooms, HSE Accommodation and an ancillary medical unit. The new Primary Care Centre sits next to an existing retail centre, anchored by SuperValu, which is also being upgraded by Townmore at the moment. Further works include associated site works.
Great progress is being made on site and last week saw the team undertaking a 100m3 pour, which started early (as noted by the dawn photos below!).  
Our project delivery partners in Cobh are:
Meitheal Architects: https://meithealarchitects.ie 
Malachy Walsh & Partners: https://www.mwp.ie
CLC & Associates: https://clc.ie