EchoLive: Work begins on new Cork city centre 'micro-sleeper' hotel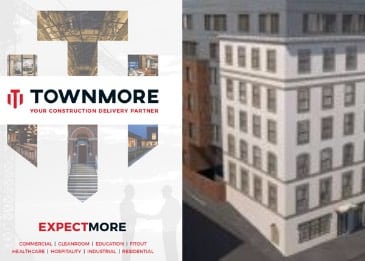 EchoLive: Work begins on new Cork city centre 'micro-sleeper' hotel
WORK has begun on the partial demolition of the former Windsor Hotel on MacCurtain St for it to be rebuilt as a €7 million 'micro-sleeper' hotel with 73 rooms.
"The project is being undertaken by Townmore Construction, a company that is based in Cork and is designed by Meitheal Architects, who were involved in the recent extension of the well-known and long-established Dingle Skellig Hotel in Kerry.

In March of last year, city planners gave permission for the 73-room hotel in what has branded as the 'Victorian Quarter'. It will see some 90-bed spaces provided and incorporates the partial demolition of the existing building and the construction of an eight-storey hotel with a bar facility. There will also be an external courtyard along with a basement level. The development will involve partial demolition of existing structures…"
Link to full article here: https://www.echolive.ie/corknews/Work-begins-on-new-Cork-city-centre-micro-sleeper-hotel-cad38d0c-6f4b-4cbd-92d3-07a1d7abda56-ds
The project is a €7 million part-demolition and new build of an iconic, 8-storey, 73 bedroom hotel. Significantly, this project will involve the use of many offsite construction and MMC (Methods of Modern Construction) technologies such as pre-cast concrete structure, bathroom pods and brick slip cladding. Project manager for this site, Townmore's Tomás Moore, explained how the inaccessibility of this busy city centre site demanded a more thoughtful design solution and careful planning in terms of logistics, site set up and traffic management.

The project build is scheduled to be completed in 12 months, after an initial three month design design phase. Contributors to this exciting development for Cork City include Meitheal Architects, CLC & Associates Engineers and M&E consultants Malachy Walsh and Partners. 
Follow updates on this project on: 
LinkedIn  https://www.linkedin.com/company/townmore-construction/ 
Instagram  https://www.instagram.com/townmore_construction/
Twitter  https://twitter.com/townmore_/ 
Facebook  https://www.facebook.com/Townmore-Construction-101148204632133/