Irish Building Magazine meets the man responsible for driving Townmore into its second decade of success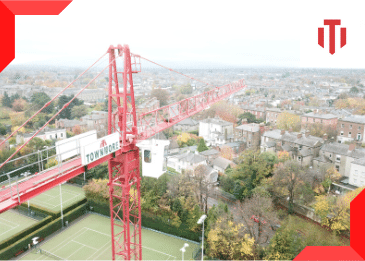 Irish Building Magazine meets the man responsible for driving Townmore into its second decade of success
– Originally published by Irish Building Magazine: https://irishbuildingmagazine.ie/2021/10/05/james-godley-townmore/

Irish Building Magazine meets the man responsible for driving Townmore into its second decade of success, Managing Director, James Godley
Townmore is one of Ireland's most dynamic construction companies. The multidisciplinary team behind this industry brand works as main contractor, design and build, and specialist contractor (including cleanroom construction) across the residential, commercial, hospitality, healthcare and education sectors.
Headquartered in Tullamore, County Offaly, the company recently built and opened a new regional office in Santry, North Dublin. This follows the opening of offices in Cork and London in recent years.
Managing Director, James Godley is a stalwart of the construction industry, having three decades experience in senior management roles for tier 1 contractors on large scale projects across Ireland, the UK and North Africa, valued in excess of €100m. Externally, his appointment by Townmore in 2019 was a strong signal of the contractor's ambition for the company and this ambition has proven to be well-founded. Internally, Godley's appointment heralded the start of a new era for Townmore and by late 2019, the company was making industry headlines after securing contracts for construction projects across Dublin, Cork and London worth an estimated €130m. Fast forward two years and the company has come through the challenges of the pandemic and emerged stronger than ever, with Group turnover on track to exceed €100m for 2021.
Godley, whose previous project credits include numerous iconic projects, not least of all Parknasilla Hotel and Resort and Tullamore Hospital, explains: "My expertise is setting up and developing initiatives that make the company sustainable, which is only possible with the right team, talent and technologies; Townmore has these in spades."
Growing through challenging times
Construction has always been a client-centric service. Mutual trust and understanding is critical and this is a two-way process, established through relationship building, professionalism and consistent, reliable and excellent delivery.
The Irish marketplace is a relatively small one and building, maintaining and honouring reputations is the only route to longevity. One of the key features of this kind of marketplace is developing new business through referrals and the contractor has benefited greatly from this. Over the past decade, Townmore has earned a strong industry reputation, delivering quality projects in a safe, efficient and ethical manner.
The Townmore team is delivering up to 15 projects annually and these projects have increased in scale and value consistently year-on-year. This steady growth and expansion has been attributed to the team's relationship-driven approach, which is evidenced by the number of repeat clients on the building company's books, many of whom are well-known Irish and international brands.
"We have a growing portfolio of clients who we work with on a repeat, almost ongoing basis and these clients are leaders within their respective sectors. The ongoing relationships allow us to understand and support our clients' objectives on a series of different projects. By adopting such a partnership and relationship-driven approach to add value, Townmore grows alongside them and this is the most sustainable and preferred model of growth for us," Godley explains.
Townmore is currently working to deliver a range of residential and commercial projects, including a 180-apartment scheme in London through sister company, London Building Company. Post-lockdown, the site team achieved practical completion on a Service Technology Centre (STC) in Blanchardstown for Edwards, the leading supplier of vacuum and abatement services and solutions to the global semiconductor industry. Townmore has also recently broken ground on a substantial medical facility in Roscrea, County Tipperary.
The specialist team within Townmore's Controlled Environments Division, which was established prior to the pandemic, has seen a massive increase in the project pipeline for 2021 and beyond. Much of this workload, according to Godley, is negotiated based on in-house expertise from design, delivery through to commissioning and handover. In fact, this division counts many worldwide MedTech brands as repeat clients.
Our People
"As a mission-driven business, the leadership team at Townmore understands that our primary resource is talent and we value that highly," James Godley says.

Another factor contributing to the successful expansion of Townmore is the team, many of whom have been working together since the early days of the business. Speaking about the team, Mr Godley remarks: "Townmore is about the people who run our sites and administer the works we do. Our team is the largest and most important asset we have and there is a vibrancy and dynamism powering the Townmore team that is unrivalled. Great clients and challenging projects play a part in this but there's something more, a shared hunger and ambition to drive Townmore into the top tier of Ireland's main contractors, and everyday excellence is the only way we know to achieve this."
While Townmore has been impacted by the well-documented labour shortages faced by the wider industry, the company has worked strategically over the past decade to attract some of the top talent in the industry. The business invests heavily in its people through selected training initiatives to upskill and an in-house graduate programme, which is seen as essential for the future of the company and to combat the current skills shortage. It is also an effective way to harness and share the extensive expertise available within the company. This strategy of empowering staff paid dividends over the past year, according to Godley, with many of the pandemic-responsive solutions to social distancing on site, regular testing and optimisation of project communications coming directly from team members on the ground.
Focus on Innovation
"Townmore has always operated a lean business and that has served us well over the past 15 months," says Mr Godley.
Characteristically, as a company born out of recession, lean is part of the DNA make up of the business, more specifically, lean processes and strict adherence to programme. This ethos was maintained through the rapid growth stages and now provides a solid platform to enable growth at scale for the future. Technology has been a great enabler and Townmore has leveraged this from the inception of the business. The use of PROCORE became mandatory on all Townmore projects from Q3 2019. While this required heavy investment in hardware, software and training for all staff and subcontractors at the time, this technology proved invaluable over the past 15 months.
"It has been a real time saver," says Godley. "Our team can access everything on their phones, from reports to drawings, specifications, programme and collaborative tools. It is a useful system for all of our projects, from health and safety to project management."
Similarly, Townmore had embraced offsite construction and other modern methods of construction prior to the outbreak of COVID-19 and this experience greatly facilitated the use of MMC on essential projects and in planning for future project delivery.
Looking ahead
While having initially focused on public sector contracts, Townmore has developed a strong repertoire of private projects across all sectors, gaining deep, specialist knowledge and experience. By spreading both the geographical offering and the sectoral offering, the company has built a sustainable model that can readily contend with challenges arising from Brexit and the pandemic, including construction materials shortages and adoption of new ways of working.
"Townmore, like our peers, has faced numerous challenges throughout the past 24 months, particularly COVID-19, and more recently in material cost increases and labour shortages. Our staff have proven to be particularly resilient, working tirelessly to identify successful outcomes. We probably learned more from our own people than anyone else over this time as they came up with the solutions that worked. As a company, our people responded very well and rose to the challenge. Without question, the Townmore team has become a stronger and closer unit as a result," concludes Godley.
– Originally published by Irish Building Magazine: https://irishbuildingmagazine.ie/2021/10/05/james-godley-townmore/