Thinking Ahead & Building Ahead: Sustainable Construction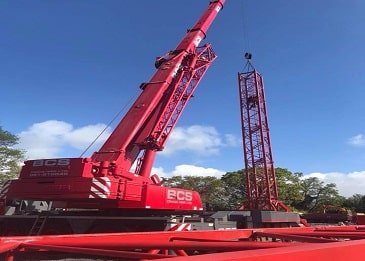 Thinking Ahead & Building Ahead: Sustainable Construction
Sustainable building needs to be at the forefront of construction as we move away from unsustainable means of creating the places people live, work, socialise and spend time. As an industry, now is the time to really consider our impact and innovate solutions.
Here at Townmore, increasing the efficiency of vital resources such as energy and water, as well as other materials, has allowed the company to achieve design outcomes that are increasingly sustainable and fit for purpose. Construction has evolved hugely over the past decade; it is no longer just about delivery of a quality building. The entire life cycle of the building is taken into account. This sustainable building philosophy allows for a more holistic design and construction strategy, with a particular focus on people and how the future generations deserve a good quality of building design.
Sustainable building has been something of a buzzword in recent years gaining much attention for its environmentally friendly methods at a time when climate change and pollution are under scrutiny. It is true that sustainable building was developed to reduce carbon emissions and to encourage more environmentally friendly methods in construction, however,  the core messaging may have been overused and this led to environmentalist support but arguably not enough support from the construction sector. Here at Townmore, we have progressively led the charge in sustainable building on our quest to find the right route to near zero-carbon building.
Off-site construction is a key part of sustainable building with modular buildings playing a vital part in reducing contractors carbon emissions. Modular housing is not only creating great buildings, but it does so with ease and environmental impact advantages. The delivery is faster as building is done in a controlled, factory environment away from outdoor sites where weather influences can impact delivery dates. In as little as four weeks buildings can be created and off-site construction boasts the ability to handle small or difficult to access sites, while being respectful to the landscape around it. Some modular buildings are manufactured using recyclable materials and this reduces waste in a way that traditional construction methods cannot.
With less energy required to produce modular buildings, energy efficiency is promised and buildings are made to the excellent standards as expected from any piece of modern construction.
Essential elements of sustainable building must be adhered to and these include recycling, reusing water, solar energy and natural light. Recycling is imperative and it can be achieved by a host of measures including considering reused materials to tile floors or create art concepts. Water has been wasted in the past and now is the time to reduce use and waste while finding better ways to use the natural resource. Solar energy has become common place in new housing developments as it is a logical investment for electricity and heating. In new buildings, smart design takes advantage of the suns position and direct areas to be flooded with natural sunlight thus reducing energy consumption.
Building Information Modelling, or BIM, technologies have been widely used across our company design and build projects for a number of years. Crucially, the use of BIM became mandatory on all Townmore construction projects in Q4 2019. In our experience, the enhanced coordination on site and automated clash detection provided by BIM technologies speeds up almost every aspect of the build process, ensuring fewer delays.
Townmore has invested heavily in both training and the necessary technologies (hardware and software) to facilitate digital transformation both on and off-site. In fact, we recently announced a robust pipeline of work for 2020, worth an estimated €130 million, which puts the company on track to generate 90 new jobs in Ireland. This is particularly exciting as Townmore has grown from a small enterprise over a decade ago, to having a group turnover of €65 million in 2019, with a staff of more than 100 direct employees. Together with our team, we are ready for a new decade of construction.