Townmore Achieves Highest Safety Rating for Seventh Consecutive Year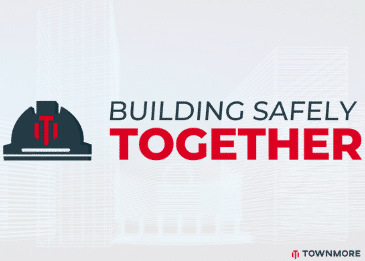 Townmore Achieves Highest Safety Rating for Seventh Consecutive Year
Well done to the Townmore Safety team!
Safety is always to the fore of successful, well-run construction sites and never more so than over the past 12-months. Despite the ongoing pandemic chaos and uncertainty, with non-essential sites closed since early January, Townmore achieved a high level of SafeTCert Accreditation at our most recent safety audit. 
For the seventh consecutive year, Townmore has been certified as an 'A' rated safety organisation, having demonstrated the highest level in a number of categories. 
The Construction Industry Federation's SafeTCert is a certification scheme designed for certifying the safety management systems of contractors working within Ireland's construction industry. The objective of the scheme is to improve Health & Safety management by providing objective standards and certifying those contractors whose safety management systems have been assessed and can demonstrate the following: 
 ~ Internal systems are in-line with the International Labour Organisation's guidelines for safety management systems
~ Team members meet the basic requirements for training and competence
~ The organisation has implemented an occupational health and safety management system, which meets the requirements of the organisation, incorporating continual improvement
~ The organisation has complied with all relevant national legislation
~ Individuals within the company have demonstrated commitment to safety at all levels within the organisation
The Townmore team are delighted to have retained the all-important 'A' rated certification for 2021. This reaffirms Townmore's established position of industry leadership through continued construction excellence and commitment to continuous improvement. 
The safety and site management teams have put a huge effort into maintaining excellent safety standards, however, this would not have been possible without the proactive cooperation of all Townmore team members, who have contributed to the safety management system throughout the year. 
Well done to all the team for another successful SafeTCert!