Townmore appointed to €102m Griffin Point Project in Donaghmede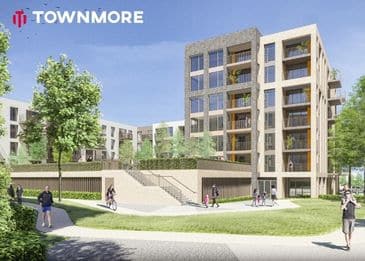 Townmore appointed to €102m Griffin Point Project in Donaghmede
The project will provide 410 apartments and a childcare facility to address North Dublin's housing crisis.
Townmore has recently been appointed as the Design & Build contractor for the Griffin Point project, which will be located at the former Columban missionary site in Donaghmede. The project, worth €102m, will provide much-needed homes for the Dublin region, with a total of 410 apartments, a childcare facility, and associated residential amenity areas planned for development.
The project will be carried out in two phases, with each phase comprising three blocks over a substantial double basement. The construction will be done using modern methods (MMC) to ensure the programme, quality, and budget are met while mitigating health and safety risks on the site.
The first phase of the project is now underway, which will provide over 200 units. The works will include the construction of apartments and amenity areas for residents, as well as a childcare facility.
Townmore is partnering with a number of expert consultants in this project, including O'Mahony Pike Architects, Barrett Mahony Consulting Engineers, PMEP Consulting Ltd, and OLM Consultancy. These partners will be instrumental in delivering a high-quality project that meets the expectations of the client and residents.
The Griffin Point project is being carried out for Bluemont, a valued repeat client of Townmore. The project will provide much-needed housing in the Dublin region, helping to alleviate the ongoing housing crisis. The project is expected to generate jobs for many skilled workers, boosting the local economy.
Overall, the Griffin Point project will be an important development for the Dublin region, providing high-quality homes and amenities to local residents. The project will be carried out to the highest standards, with modern construction techniques ensuring that it is delivered on time, on budget, and to the satisfaction of all stakeholders involved.