Townmore: Project update on works at Bray's Southern Cross Central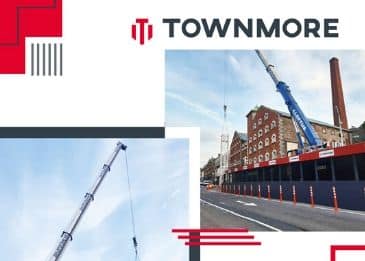 Townmore: Project update on works at Bray's Southern Cross Central
In late 2020, prior to the construction industry shutdown, the Townmore team broke ground on an exciting new residential development at Southern Cross in Bray, County Wicklow for Lioncor Developments https://www.lioncor.ie/developments/southern-cross-central. 
This superbly located development is nestled between the instantly-recognisable Sugarloaf mountain, just south of Bray, and the sea. When complete, this mixed-use residential development will comprise 160 apartments across four separate five-storey blocks. Further construction details can be found at: http://test.townmore.ie/news/townmore-project-update-southern-cross-bray/ 
At the start of the project, Townmore launched an initiative inviting local suppliers and subcontractors to get involved in the delivery of this new multi-million euro neighbourhood centre, as featured by the Irish Independent here: https://www.independent.ie/developers-to-hire-local-people-on-new-project-39910831.html 
The supply chain and construction workers being sought, as referred to in the Independent.ie article above, is just a small part of the overall requirements and we invite any suppliers or subcontractors who might be interested in working with Townmore on the development at Southern Cross, and indeed on other projects nationwide to contact the site team by email at southerncross@localhost. 
As non-essential construction sites begin the phased reopening this week, great progress is being made by the team at Southern Cross Central. The first of two tower cranes has now been erected by our colleagues in IreEquip and 400 m3 of concrete has now been poured by DPPS Contracts Ltd. Despite the industry-wide restrictions imposed on construction activities as a result of the ongoing pandemic, momentum is being regained and we look forward to watching these much-needed new homes come out of the ground. 
The Townmore team includes Seamus Quirke, Edward Connolly, Sean Reynolds, Andy Ntambwe, Jamie Riordan, Joseph Glennon and Lorna Conroy. 
Our thanks as always to our delivery partners at Burke-Kennedy Doyle Architects, PMEP Consulting Ltd, Barrett Mahony Consulting Engineers, DCON Safety Consultants Limited, Des Fortune, and Kevin Fitzpatrick Landscape.