Townmore: ICE Awards 2020 Finalist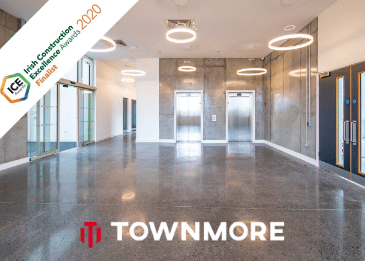 Townmore: ICE Awards 2020 Finalist
The team at Townmore are delighted to be named as finalists in the Irish Construction Excellence Awards 2020. 
While it is true that a job well done is a reward in its own right, the recognition of industry-leading design and build quality by the ICE judging panel is an important achievement for Townmore as the company evolves and matures.
The annual Irish Construction Excellence Awards programme – organised by the media group behind Irish building magazine – is the longest established, independent recognition of building excellence for construction contractors in Ireland. 
We are particularly proud to see two of our recently-completed projects recognised, as follows: 
IDA Advanced Office Building | Townmore
Category: Commercial Under €10m
Project: Advanced Office Building, National Technology Park, Limerick
Contractor: Townmore
Client: IDA Ireland
Lead Architect: van Dijk International
Contract Value: €9.65 million
Townmore is one of Ireland's largest main contractors with close to 100 talented professional and delivery staff and a portfolio of over 100 projects completed. We take particular pride in completing stand out buildings for our Clients. 

The new office building is located on a prime site at the entrance of the National Technology Park in Plassey and as such it was critical that it be completed to the highest standards. The project team, in conjunction with the design team and the Client, worked tirelessly to deliver the outstanding building it is today. We believe that the Architectural design coupled with the high-quality finish delivers a building that the IDA can be proud of. 

Added to this is the fact that the building was delivered on time and within budget which has ensured that all parties can be extremely happy with the outcome.
Category: Leisure or Tourism
Project: Maldron Hotel, Parnell Square – Extension and Refurbishment
Contractor: Townmore
Client: Dalata Hotel Group Plc
Lead Architect: Douglas Wallace Architects
Contract Value: €9.6 million
Townmore is one of Ireland's largest Main Contractors with close to 100 talented professional and delivery staff and a portfolio of over 100 projects completed.

The Maldron Parnell Square proved to be one of our most challenging and complex projects to date. This was evidenced by the various working types; conservation, new build, extension, infill, fitout and refurbishment. Works took place from existing basement, to listed 1700's buildings to rooftop extensions and live environment refurbishment. This was further exacerbated by the sheer lack of space to work within – Townmore were confined to the bottom of a busy residential laneway adjacent to the hotel.

With the picture set in terms of complexity, Townmore deployed our most experienced and capable team to deliver the project consisting of a Construction Director, two Project Managers and two Site Managers along with Site Engineer, HSEQ Officer and associated junior staff.

The project was delivered within budget and programme and to the highest standards within which is evidenced by the success of the hotel post-handover. It is well-known as one of Dublin's busiest hotel destinations for quality and value.